My Blog
Posts for tag: dental health tips
By Angela M. Harney D.M.D., P.A.
March 03, 2012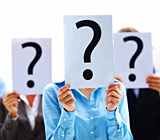 Anytime you are considering an implant surgery to replace missing teeth, you should take the time to gather the facts so that you have clear understanding of the procedure, your options and any potential risks. You should also feel comfortable with the dental team who is treating you. For these reasons, we created the following comprehensive list of questions so that you can obtain the answers you need to help you feel at ease prior to treatment.
Am I a good candidate for dental implants?
What is the success rate for dental implants?
How long have you been placing implants and how many do you place each year?
Can you show me some before and after photos that illustrate your work?
What are the risks, benefits and alternatives to dental implants?
Are dental implants ever rejected?
How do you assess whether I have enough bone to anchor dental implants?
Can you tell me about the surgical procedure for implant placement?
How long will the entire process take from my first appointment until I have my implant(s) and crown(s) in place?
Do I have to go without teeth while my implants are healing?
What type of anesthesia will you use during my implant surgery?
What can I expect in the hours and days following my implant surgery?
How long will it take my implants to heal?
How long can I expect my implants to last?
Will there be any maintenance required with my implant(s)?
How much will dental implant(s) cost?
Will my insurance cover all or a portion of the cost?
To learn more, read "Dental Implants, Evaluating Your Professional Options For Care." Or, you can contact us to discuss your questions or to schedule an appointment.
By Angela M. Harney D.M.D., P.A.
May 25, 2011
Some of the most important lessons parents and caregivers can give their children involve teaching and demonstrating good oral health habits. The following tips from the Centers for Disease Control and Prevention (CDC) are some ideas for helping you keep your children's teeth healthy.
Start cleaning teeth early.
As soon as a child's first tooth erupts (appears), you should clean it daily by using a clean, damp cloth. Once several teeth are in, you should switch to a small, soft-bristled toothbrush. As for using toothpaste containing fluoride, you typically should start using it to brush your child's teeth at around 2 years old. However, there are some situations in which we recommend using toothpaste earlier than age 2. It just depends on your childâ??s mouth and development.


Use the right amount of fluoride toothpaste.
Many people are aware that using toothpaste containing fluoride is an important tool for fighting tooth decay. But, many are shocked to discover how much should be used and what could happen if too much is used and swallowed. Because children under the age of 6 may tend to swallow all or some portion of toothpaste, you should only use (and teach them to use) a small amountâ??about the size of a pea. Otherwise, they could be at risk for getting white spots on their permanent teeth years later from having swallowed too much fluoride. This is also a key reason for teaching children how to rinse and spit properly after brushing their teeth.


Supervise brushing.
Because children's abilities and maturity can vary greatly from child to child, you should brush your children's teeth until they have demonstrated the ability to handle the task alone. However, even when you give them the power to self-brush, you need to monitor them closely to ensure they are doing a thorough job, using the correct amount of toothpaste, and not brushing in a way that could damage teeth or gums. Brushing for too long and too hard are bad habits that can be detrimental to teeth and gums.


Talk to your child's doctor and with our office.
Did you know that your first appointment should be at age one? The age one dental visit can be critical in establishing great communication and trust, and preventing early childhood decay. And having a positive rapport with your dentist and physician is important at any age; however, it is vital for parents and caregivers to develop great communication with their healthcare professionals on behalf of their children from the start of life. Not only does it model good habits for them to observe, but it also helps you stay abreast of the oral and general health needs.
Want to learn more?
Contact us today to discuss your questions or to schedule a consultation. You can also learn more by reading the Dear Doctor article, "Oral Hygiene Behavior."
By Angela M. Harney D.M.D., P.A.
March 14, 2011
Planning a dream trip is something many people spend weeks, months or even years doing prior to their departure. However, in all of their excitement, they often forget about preparing for any "what if" dental emergencies that could occur while on the road. This is especially important if the trip will be overseas where you could face language barriers in addition to the concerns of finding qualified dental professionals you feel comfortable with treating an emergency.
The first and most important step you can take prior to departure is a proactive one: schedule an appointment with us for a thorough exam. (You should also do the same and schedule an appointment with your physician concerning your general health.) During this visit, be sure to let us know about your travel plans, where you will be going and what you will be doing so that we can ensure you are best prepared for your trip. For example, if you will be trying some new or high-impact activities, you may need a mouthguard to protect your teeth. Also, have any dental problems taken care of prior to traveling because pressure changes, especially during air travel, can cause pain in an untreated tooth.
As for seeking safe emergency dental care while you're traveling, here are some tips:
Be sure to carry your travel information with you at all times, including the names and phone numbers of organizations to contact in case of a dental or medical emergency.
Some good sources to contact in an emergency are:

Friends or relatives that you are visiting in the area
A local hotel concierge
If traveling overseas, Americans living in the area or American military personnel; The International Association For Medical Assistance To Travelers, a network of doctors and medical institutions around the world (www.iamat.org; 716-754-4883); American Consulate or American Embassy in the country you are visiting; or if in Europe, the American Dental Society of Europe (ADSE; www.adse.co.uk; Phone: 011 44 141 331 0088)
And be sure to take our address with you on your trip. We would love to receive a postcard from you while you're traveling!