My Blog
Posts for tag: pregnancy
By Angela Harney, DMD
October 31, 2014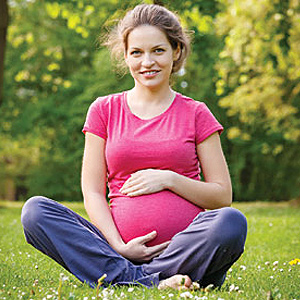 Pregnancy is an exciting time in a woman's life — but it can also generate a lot of questions about both the mother's and the baby's health. The realm of dental care is no exception.
Here are a few of the questions we frequently hear from expectant mothers, along with our answers.
Does the baby's tooth calcium come from my teeth?
This question is frequently asked by mothers who may have had dental issues and are worried they'll pass on these problems to their baby. Simply put, no — a baby developing in the womb derives minerals like calcium for their teeth and bones from the mother's diet, not her teeth. What an expectant mother can do is be sure to eat a healthy, balanced diet rich in nutrients and minerals like calcium.
Am I at heightened risk for dental disease during pregnancy?
Pregnancy does cause significant increases in your body's hormones, particularly estrogen. This can cause changes in the gum tissue's blood vessels that may make you more susceptible to periodontal (gum) disease (commonly called "pregnancy gingivitis"). It's also possible later in pregnancy to develop non-cancerous overgrowths of gum tissues called "pregnancy tumors." The heightened risk for gum disease during pregnancy calls for increased vigilance in monitoring gum health.
What should I do to take care of my teeth?
It's important to brush your teeth thoroughly twice a day with ADA-approved fluoridated toothpaste to remove plaque, a thin layer of bacteria and food remnants that adhere to teeth. You should also floss daily and consider using an anti-plaque/anti-gingivitis mouthrinse. And, of course, you should see us for regular office cleanings and checkups, or if you notice swollen, tender or bleeding gums, or other abnormalities.
Should I take prenatal fluoride supplements?
This sounds appealing as a way to give your baby a head start on strong tooth development. Studies on its effectiveness, however, remain slim and somewhat inconclusive — we simply don't have enough data to make a recommendation. What does have a solid research record is the application of fluoride to teeth in young children just after they appear in the mouth — studies involving over a thousand teeth have shown 99% cavity-free results using topical fluoride applications with sealants.
If you would like more information on dental care during pregnancy, please contact us or schedule an appointment for a consultation. You can also learn more about this topic by reading the Dear Doctor magazine article "Expectant Mothers."
By Angela Harney, DMD
July 08, 2013
Congratulations! In a few months, you're expecting a new baby... but, in the mean time, your body is adjusting to nausea, weight gain, food cravings, and a hundred other changes. Is this really the time to worry about your teeth and gums?
Yes and no — don't worry, but do be aware of a few basic facts about your oral health and your pregnancy, and how they affect each other.
Being pregnant may make your teeth and gums more sensitive. It also puts you at greater risk for some periodontal diseases, like pregnancy gingivitis ("gingival" – gum tissue; "itis" – inflammation of) and benign growths on the gum called "pregnancy tumors." You may think these problems are just uncomfortable, but you should really have them evaluated as soon as they develop. Why?
Once upon a time, it was believed that periodontal (gum) diseases just affected the mouth. Today, we think these diseases and their associated bacteria may be involved with the whole body, playing a role in cardiovascular ailments, heart attacks, strokes, diabetes, and other illnesses.
What's more, recent studies suggest that these oral bacteria may be able to cross the placenta, stimulating an inflammatory response that may lead to preterm delivery. Babies who are born pre-term often have low birth weight, and are at greater risk for a number of health complications. That's one reason why maintaining good oral health is so important to expectant moms.
So, what should you do? First of all, keep in mind that maintaining your own general and dental health is the best thing you can do for your developing baby. Eat a balanced diet, keep up healthy habits — like limiting sugary between-meal snacks and brushing regularly — and don't put off visiting your dentist to get your dental cleanings. Those cleanings and a thorough evaluation can set your mind at ease and give your baby the best chance at a healthy start.
If you would like more information about pregnancy and oral health, please contact us or schedule an appointment for a consultation. You can also learn more about this topic by reading the Dear Doctor magazine articles "Pregnancy and Oral Health," and "Expectant Mothers."
By Angela M. Harney D.M.D., P.A.
March 11, 2012
A pregnant woman has a lot to think about while preparing to welcome a new member of her family. It's important to think about her oral health as well. She is sharing her body with the developing infant, so problems with her health — including her dental health — can affect the baby. The following facts will help you understand the relationship between oral health and pregnancy.
A baby's primary (baby) teeth begin to form during the sixth week of pregnancy. They begin to form their enamel (the hard outer layer of the teeth) and dentin layer (just under the enamel) at about the third or fourth month. The calcium, phosphorous, and protein that are needed for these structures must all be provided by the mother's diet.
A good diet for a pregnant mother, in order to provide for both her needs and those of the fetus (the developing baby), includes whole grains, fruits, vegetables — including green leafy vegetables — proteins and dairy products. A doctor may also recommend iron and/or folic acid supplements.
If the mother's diet does not provide enough calcium for the baby's bones and teeth, it will come from calcium stored in her bones — not from her teeth. The old idea that a mother's teeth lose calcium during pregnancy has been found to be a myth.
Progesterone, a normal female hormone, is elevated during pregnancy. This hormone stimulates production of prostaglandins, substances that cause inflammation in gum tissues if the bacteria that cause periodontal (gum) disease are present. The resulting swelling, redness, and sensitive gum tissues, called pregnancy gingivitis, are common during the second to eighth months of pregnancy.
The bacteria involved in periodontal disease can affect whole body conditions such as heart disease and strokes, diabetes, and respiratory diseases. The inflammation resulting from such bacteria can also cause premature delivery (birth before 37 weeks of pregnancy) or low birth weight in the baby.
Periodontal disease is also related to pre-eclampsia, or high blood pressure, during pregnancy.
Dental x-rays do not expose the mother to very high radiation, but in any case every precaution is taken to minimize exposure to the fetus. These include a leaded apron that shields the baby from exposure.
Most drugs commonly used in dentistry, including local anesthetics, can safely be given to pregnant women without affecting the fetus. However, it is important to let your dentist know you are pregnant before embarking on any treatment to make sure anything that is done will be safe for the fetus and its developing teeth.
Contact us today to schedule an appointment to discuss your questions about pregnancy and your oral health. You can also learn more by reading the Dear Doctor magazine article "Pregnancy and Oral Health."